Not every home would benefit from a solar hot water system so use the following checklist to see if your home meets the requirements:
A large roof: Majority of houses will use two solar panels that are approximately 2 x 1 meters, meaning you will need over 2 x 2 meters for good spacing. Around the house you will also need some space for the solar hot water tank to be installed.
A north-facing roof: To make sure you are getting plenty of sun, your panels should be installed on a north-facing roof space.
No shade: To be sure you will get the most out of a solar hot water system, your solar panels will need to collect as much sunlight as possible. Make sure the area you are putting them on is free from surrounding trees, surrounding buildings or anything that may cast a shadow across the solar panels.
Climate: When choosing the power in a solar hot water heater you will need to consider factors such as temperature extremes.
Benefits to Solar Hot Water Systems
There are many benefits to changing across to a solar hot water system, the biggest being economical.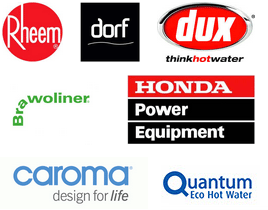 Australia has a natural abundance of sunlight that a solar water heater can take advantage of. The initial extra cost will be paid back over time, as you will be spending less on heating water. You will also be reducing the greenhouse gases produced by your home – solar power is a renewable energy source.
If you are looking at getting a solar hot water system installed your plumbing technician can assist you with making an informed decision. For complete peace of mind call Rustic on 0499 154 760.