Water heating becomes a larger and larger share of overall energy consumption. Solar water heating systems usually cost more to purchase and install than conventional water heating systems.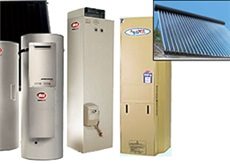 However, a solar water heater can usually save you money in the long run.
Save your money with a solar heat pump water heater installation from Rustic Plumbing. We have the best systems for you as well as the best professional installation backed by unsurpassed level of customer care and service that only us could provide.
Discover the Rustic Plumbing difference when you're considering a solar heat pump water heater:
Save Money
Now you can save thousands on installing the latest in hot water technology. There has never been a better time to upgrade your water heater into an eco-friendly one.
Lower Running Costs
The most amazing feature of solar heat pump water heaters is the energy savings they can provide. A regular electric water heater has an efficiency of less than 100%, whereas as a heat pump water heater can have an efficiency of up to 400% – meaning it can produce up to four times the amount of heating energy out from one unit of energy put in. The system is largely powered by the sun because the system uses the heat in the air as its source of energy. A solar heat pump water heater can lower your water heating energy consumption by as much as 70%.
Help the Environment
Reducing the amount of energy used to heat hot water can help the environment through lower carbon emissions. Unlike fossil fuels, solar energy is available to a practically unlimited extent; it is carbon neutral and free of charge. Modern heating systems can be combined with solar panels, making solar heating systems available for hot water heating, or to feed additional heat into the heating circuit.
Leading Brands
Rustic Plumbing is an authorized installer for the leading solar heat pump brands in Australia, including Rheem and Dux.
Helpful Advice
There is no standard solution when searching for the right heating system. But it is not that difficult to find the system that fits your needs. Rustic Plumbing can assist you in planning your new heating installation.
Best Warranties
We can show you the solar heat pump water heaters with the best warranties. Rustic Plumbing guaranteed satisfaction on our installation workmanship that has serviced Port Macquarie for years.
Professional Installations
You can be sure of a professional installation from trained, licensed and insured experts in hot water. Rustic Plumbing is a proud member of the Master Plumbers Association.
There are different types of heat pump water heater systems available so it's important to do your research and choose one that suits your needs. For more information on how to save, and for all your solar pump hot water needs, call and speak with the experts from Rustic Plumbing today to assist you before and after installation.