Rinnai makes life simpler by giving you more hot water to meet your daily hot water needs. They were a global leader in gas appliance manufacturing, striving for reliable and consistent quality. Rinnai Water Heaters produce an endless supply of hot water to suit even the most demanding applications—from restaurants to hotels to multifamily residences to schools and more.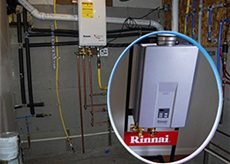 When you need fast repairs and new installations of Rinnai water heaters, you can rely on the 24 hour service, expertise and professionalism you receive from Rustic Plumbing. Our professional plumbers are not only experts in their field, they're great people too. All of our plumbers are fully licensed and qualified professionals.
Compare the Rustic Plumbing difference for your hot water:
Fast Repairs
With our teams across Port Macquarie, we can send the nearest available team direct to your door 24/7. So if your existing water heater is experiencing drawbacks such as major leaks, Rustic Plumbing could dispatch a repair team today.
New System Installation
Rustic Plumbing can assist you with a complete installation, including replacement of your old Rinnai water heater. Our well stocked trucks mean we can perform 90% or more of all repairs instantly.
Professional Advice
We're professionals at what we do or say, where you can count on quality plumbing and sincere customer service. Rustic Plumbing could help you select the right size of water heater to your home, family and lifestyle. Even the best recovery rate, how fast it can reheat water from cold. We are the professionals you can trust to recommend the best options for whatever your issue or situation. We take the time to explain solutions and recommendations to you so you understand all options and what's being done.
Energy Savings
Latest innovation in water heater technology may be able to save you money on your running costs. Rustic Plumbing is not only expert with tank water heaters, but also with continuous flow water heaters, solar water heaters and heat pump water heaters.
On-Going Maintenance
To avoid rust and maintain performance, water heaters require on-going maintenance. We know these are difficult economic times and we try to make it a little easier for you by working within your budget. Rustic Plumbing can help keep your system safely in full working order. We are committed to providing customers with top quality service for a reasonable price. A simple inspection may be able to extend the working life of your system and prevent injury from safety valve issues.
Speak with the hot water experts for all your water heater repair and new system installation needs in Port Macquarie. Call Rustic Plumbing today!